QM-DT212W 100M Wireless HDMI Extender H.264 Encode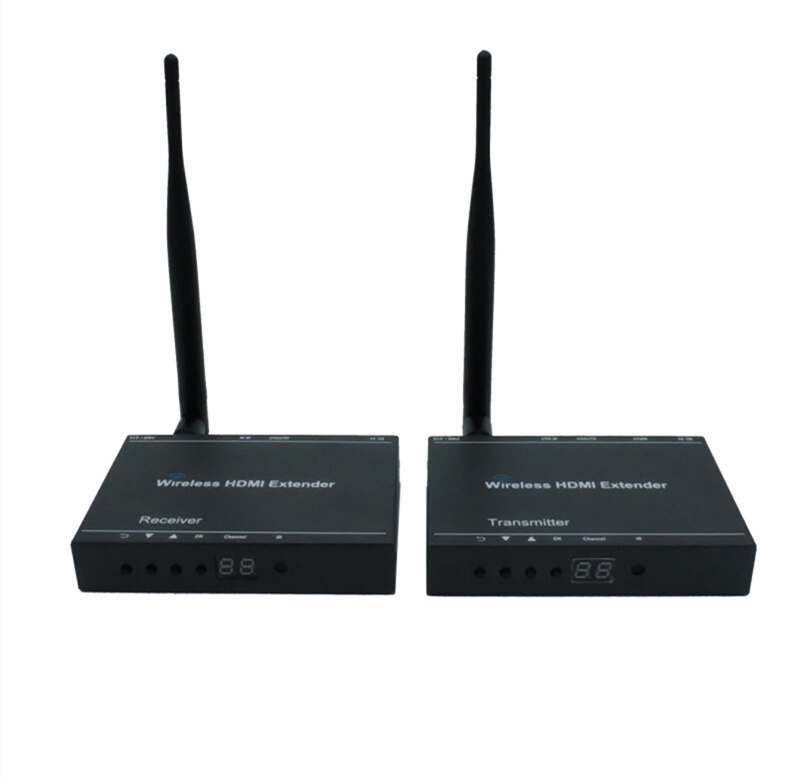 1. Decription
This Wireless HD Video Solution enables wireless transmission of video/audio from any HDMI video source , such as PC/HDTV to display devices that includes HDTV/HD Monitor over the 2.4GHz/5.8GHz band, with very low latency.
It does not require any special configuration of software driver installation-simply connect the transmitter to the HDMI output of the video source and the receiver to the HDMI input of the Panel/TV/Monitor. Its Plug & Play operation makes it the ultimate solution for the most demanding indoor/outdoor professional environments.
This Wireless HD Video Transmission Solution is widely applicable to family entertainments, office presentation, lecture, education, medical treatment, party, conference etc.
2. Features:
Apply

H.264 technology.

Support HD devices with HDMI input/output, include Blu-ray player, DVD player, PC, laptop, HDTV etc.

Support resolution: 480i@60Hz, 480P@60Hz, 576i@50Hz, 576P@50Hz, 720P@50/60Hz, 1080i@50/60Hz, 1080P@50/60Hz

Support

wide

infrared

remote control function to control source device content from long distance.

Latency

:

≤200ms in without obstacle room.Usually latency is 0.4s in the obstacle and wifi room.

Transmitter have one

local loop out

.

Support

1

TX

to 2

RX.

Effective Range: 200m/656ft in 2.4G, 120meters in 5

.8

G

in the outdoor empty and without obstacle environment, usually 50meters.

could

p

ass through 1

solid

wall between the two rooms within 15-20mtr.

The user can select 2.4g or 5

.8

g

on button

No cable between sender (TX) and receiver (RX)

Easy and clean installation

Plug & Play

–

full hardware design, no software is required
Note:
Transmission distance will be different due to the environment if you use in build where is already have wifi, 5G is better.
Wall, brick or glass will shorten the signal cover range or cause big signal loss
3. Specification
Parameter

Description

Video

Standard Protocol

HDMI 1.3; HDCP 1.2

Maximum pixel clock

165MHz

Maximum data rate

6.75Gbps

Resolution

480i@60Hz,480P@60Hz,576i@50Hz, 576P@50Hz,720P@50/60Hz,1080i@50/60Hz, 1080P@50/60Hz

Connector

HDMI-A

Impedance

100Ω

Compress Formats

H.264

IR

Interface

3.5mm earphone seat

Signal direction

Unidirectional

IR frequency

20-60kHz

WIFI

Frequency

2.4GHz/5.8GHz

Transmission distance

Max :200m/656ft

Wireless Standard

RX- 802.11AC; TX-802.11N on 5Ghz,

802.11G on 2.4Ghz

Other

Power supply

The power adapter: DC 5V/2A

Power dissipation

MAX 6W

Temperature

Operating: -5℃ ~ +70℃

Humidity

Operating: 5% ~ 90%

Dimension

120*82*25mm

The warranty

1 year warranty
4. Panel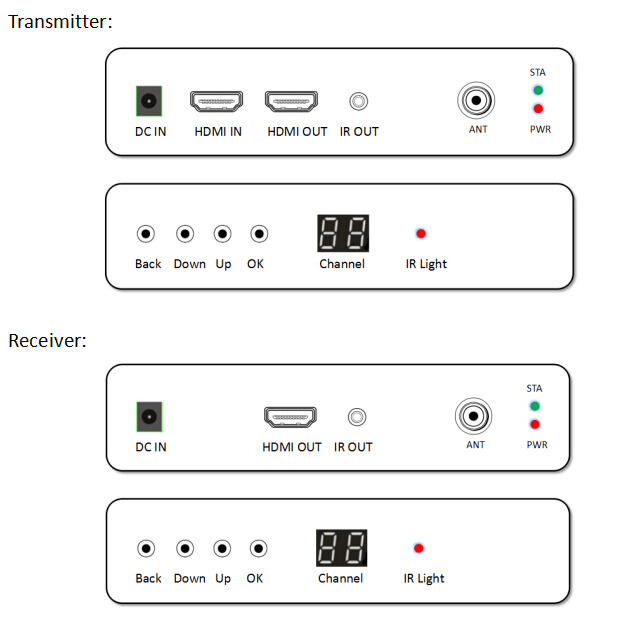 | | |
| --- | --- |
| Port name | Description |
| HDMI IN/OUT | HDMI signal input/output |
| IR IN/OUT | IR signal input/output |
| DC IN | Power adapter socket |
| Channel | Display Channel |
| Back Down UP OK Key | Adjust 2.4G/5.8GHz channel. |
| LED indicator | Description |
| STATUS | Video signal connection indicator |
| POWER | System power indicator |
5. Installation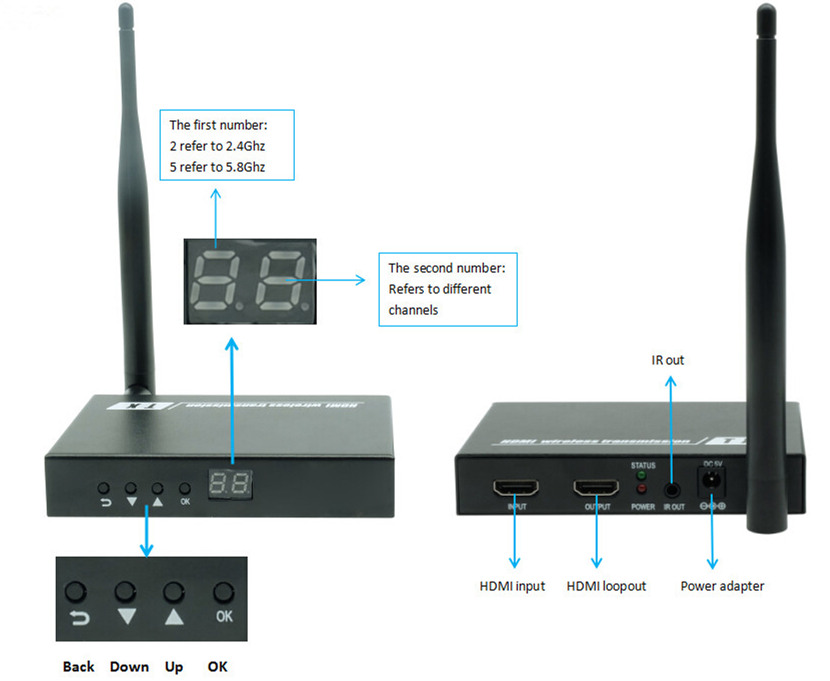 1.Back: return the last step.
2.Down: Press " Down" key , the number display on " Channel" will be down ,for example "5.8 " to "5.7"
3. Up: press " Up" key ,the number display on " Channel" will be up ,for example " 5.7" to " 5.8"
4. OK : after changed the channel ,need to press " OK " key .if not ,after 3 seconds ,will back to last channel .
5. Channel: display the channel number . for example
2.4G: 2.0 2.1 2.2 2.3 2.4 2.5 2.6 2.7 2.8
5G : 5.0 5.1 5.2 5.3 5.4 5.5 5.6 5.7 5.8
6. Using Application
1 to 1
1 to 3
Packing list